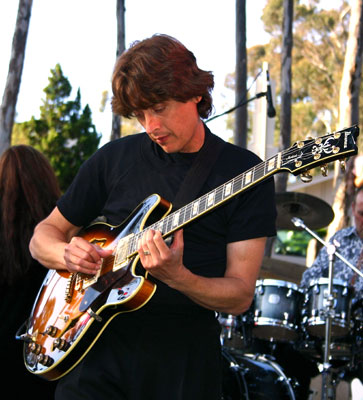 Artist Profile:
Hank Easton
A musician who has been labeled "San Diego's best kept secret," Hank Easton may not be able to hang on to this moniker much longer. The secret is quickly coming out of the bag. Arguably the best guitarist in the San Diego area, he is rapidly attracting fans worldwide to his unique style of jazz-pop-rock-blues-fusion guitar playing and songwriting. With the release of three new CDs of original music in just the past year, Easton is destined to become a important figure in jazz/rock guitar and composition over the next few years.
Easton has spent nearly his entire life with a guitar in his hands. Originally from New York, Easton began playing guitar at age five. He was classically trained at The Cleveland Institute of Music from early childhood until age 17. During those years he also began playing electric guitar, counting among his influences the premier guitarists/artists of the time: Hendrix, Jeff Beck, Steely Dan, Carlton, Benson, Clapton, Howe, Santana, Frampton, and others.
Already a seasoned club guitarist after graduating from The Ohio State University in 1985, Easton decided to move to Southern California. He continued developing his own style and gaining new fans. While Hank has sustained his love of classical music and acoustic guitar, he is known mostly for his prowess on the electric guitar.
Easton's artistic fluency and versatility as a guitarist immediately established him as an in-demand performer, sideman and studio musician on the Southern California circuit. In addition to his solo guitar work he has a four-piece fusion band, "The Hank Easton Group," which displays all facets of his guitar work. Easton is currently the featured guitarist in San Diego's most popular award-winning tribute band, "The Steely Damned."
Aside from live performances, Easton continues producing in his studio. The first new recordings since "Show Me A Sign" in 1995, Easton recently released three new CDs: "Snapshots," "Nylon and Steel" and "Eleven." Currently, he is also writing and recording for television and film.
It has been said that "you can't keep some secrets for long." Now you are in on it too!
Related Post