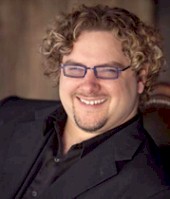 Artist Profile:
Jamieson Trotter
Jamieson Trotter always find himself humming melodies. I pass the ice cream truck and the next thing I know, I'm humming Tchaikovsky (but with the sound of that terrible, distorted speaker being the star of the humming orchestra). Those special sounds that we all hear everyday become my palette when I perform at night. Maybe I incorporate an ice cream truck lick, or maybe I choose a grittier way to say something pretty. The only problem with humming melodies is that even after an evening performance, I'm still going to be humming the damn ice cream truck tune.
When I was four years old, I went into the den where my father had been practicing the piano and began playing what he had just finished working on. As the story goes, he peeked into the room and just said, I'm in deep trouble. He started lessons for me the next day.
I attended school at California Institute of the Arts where I was able to learn from the great bass player Charlie Haden. I also have performed with Joe LaBarbera, Larry Koonse, and even the harmonically challenging Waddada Leo Smith (formerly of the Chicago Art Ensemble).
After leaving Cal Arts, I started the school of the street. In order to make ends meet, I've had some experience in the movie industry doing hand acting and other such atrocities. I have worked with Val Kilmer, Debra Winger, David Arquette, and some lesser-known actors. Incidentally, Debra Winger was the easiest person to get along with and also the most serious in her preparation.
In my wanderings through the Street University, I discovered my love of Jazz, Cuban music, Pop music, and old school Soul. So, I began a band with my wife, blending all of those sounds into an original project we call Roxy Especial. I not only composed the songs with Roxy, but also co-produced the record. I have also enjoyed playing other people's music. I have performed with The Temptations temporarily.
A number of movie premiers found my keyboard playing skills useful including both Pirates of the Caribbean movies, Monster in Law, Criminal, and Herbie Fully Loaded. I have played the governor's ball for the 2003, '04, and '05 Emmy's, and I enjoyed performing for the Academy Awards Governor's Ball in 2002 and '03.
Having had a more developed taste of production and loving it, I have since produced a number of artists varying in style from hardcore jazz to country music. I haven't found a specific use for an ice cream truck playing Tchaikovsky, but I hope to someday.
Related Post