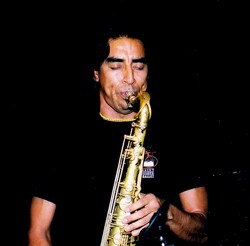 Artist Profile:
Javier Vergara
Javier Vergara is a saxophonist and flutist based in Los Angeles, California. Born in Mexico City into a musical family, Javier was drawn to jazz at an early age. As a teenager, he moved to Southern California and has been a fixture on the Los Angeles jazz scene ever since. As a working musician, Javier has traveled internationally from Turkey to Taiwan and criss-crossed the U.S. with tours, concerts and festivals. Javier has shared the stage, recorded with, and studied under some of the best names in the jazz world. In 2011, he joined the Jazztec Collective, a tapestry of bebop, classical and avant-garde music celebrating the rhythms of Mexico.
Professional Experience
Jazztec Collective 2011 to present
Pancho Sanchez Latin Jazz Band 2004 to 2011
Hugh Masekela 2005
Les McCann 2003
USC Jazz Orchestra 2003
Roy McCurdy 2002
Ravi Coltrane 2000
daKAH Hip Hop Orchestra 2000
David Ornette Cherry 1998
Carl Burnett 1997
Banda Brothers 1995
John Oliva Timba Jazz 1994
Francisco Aguabella 1993
Studio Recordings
Jazztec Jazztec Collective 2011
Psychedelic Blues Pancho Sanchez Latin Jazz Band 2009
Raise Your Hand Pancho Sanchez Latin Jazz Band 2007
Do It Pancho Sanchez Latin Jazz Band 2005
Acting Up Banda Brothers 2003
Score for Documentary Hard Road Home, Music Camara Kambon 2002
Javier Vergara Quartet Javier Vergara Quartet 2000
Performances/Famous Venues/Events/Festivals
IAJE (International Association of Jazz Educators) 2004,2006,2009
Hollywood Bowl, Playboy Jazz Festival Hollywood 2009-2010
JVC Jazz Festival New York 2005
Carnegie Hall New York 2005
Blue Note New York 2009
House of Blues New Orleans 2009
Playboy Jazz Cruise Caribbean 2009
Greek Theater Los Angeles 2008-2009
Blue Note Tokyo, Japan 2008
National Concert Hall Taipei, Taiwan 2008
Heineken Jazz Festival Puerto Rico 2008
Cervantino Festival San Miguel San Miguel, Mexico 2008
Balon Istanbul, Turkey 2009
Pori International Jazz Festival Pori, Finland 2009
Yoshi's San Francisco 2004-2011
Barranquilla Jazz Festival Barranquilla, Colombia 2009
Jazz Alley Seattle 2004-2011
Professional Training
Private Study
● Jeff Clayton 1996
● Jerry Pinter 1997
● Bob Sheppard 2000
● Jeff Elwood 2004
● Bill Cunliffe 2006
● Rob Lockart 2009
Teaching Experience
Instructor, Boys and Girls Club of Pasadena
Conducted classes and individual study in saxophone, flute, clarinet and sight reading, 1995-1998.
Music coach
Provided private instruction to music students on Jazz Improvisation, 2006-2009.
Education
Pasadena City College, Pasadena, CA
Jazz Combo with Bob Bradford 1991
Alhambra High School, Alhambra, CA
Jazz Band Tenor Saxophone 1986-1989
Orchestra Flute 1986-1989
Related Post