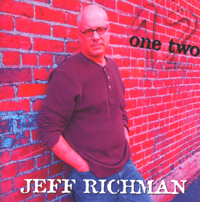 Artist Profile:
Jeff Richman
Jeff Richman is a guitarist of extraordinary depth and sensitivity. His playing and his compositions draw from an exceedingly wide range of influences, fused together with a rich distinctiveness; you can always tell it's Jeff Richman playing, even if you're in the next room.
Jeff appears frequently on LA's stages and in its studios alongside the world's
finest and most revered musicians.
Guitarist/composer Jeff Richman has performed and taught throughout Europe, Japan, Brazil and The United States as a solo artist, as well as with various name acts. Most recently, Jeff toured Europe (Oct/Nov 99) as the guitarist for the Manhattan Transfer.
Richman's current project, The Jeff Richamn "All Stars", is an ongoing monthly event at the world famous "Baked Potato" in Hollywood, California. Combining all star musicians for each performance, Jeff has the evening's band recorded live for a special compilation CD. Players already included in this unique project are Jimmy Haslip, Gregg Bissonette, Mitchel Forman, T Lavitz, Neil Stubenhaus, John Jr Robinson, Tom Brechtlein, Steve Tavigilione, Abe Laboriel and Peter Wolf.
Jeff has released seven CDs as a solo artist, some of which he is joined players such as Vinny Colaiuta, Steve Smith, Alex Acuna, Abe Laboriel, Gary Willis, Steve Lukather, John Abercrombie and Ernie Watts, to name a few. His recently released CD, "Sand Dance", features Richman's working band with Joel Taylor on drums, Dean Taba on bass and Judd Miller on EVI. Another current project is the duo CD with fellow guitarist Wayne Johnson, titled "Apache", on Miramar records.
On Jeff's previous solo CD "Last Arrival", he joined world class producer, Peter Wolf, on keyboards. Peter and Jeff have shared a long term working relationship on several CD's and movie scores, as well. In addition, Richman's recorded for world renowned English pop artist, Cliff Richard. This CD featured Jeff as a soloist for the number one German hit movie, "Irrin Ist Mannlich".
Active in the L.A. studio scene, Richman plays on a variety of TV, CD and movie projects. He can be heard on the soundtrack for Tom Hank's movie, "That Thing You Do", and has produced and written music for three Library Music CD's that air frequently on television and films.
Additional credits include recordings/tours with T Lavitz, Al Mouzon, Mark Isham, Me'shell Ndego'cello, Nancy Sinatra, Hanry Mancini, Flora Purim and Airto Moreira. He performed twice at the world renown Montreux Jazz Festival in Switzerland.
A regular performer with his band throughout the Los Angeles area, Jeff also teaches at the Los Angeles Music Academy (LAMA) and Musicians Institute (MI). Richman graduated from the Berklee School of Music, where he studied privately with Pat Metheny and Mick Goodrick. He also holds a Masters Degree in Music from California State University at Northridge.
"Richman's skewed guitar playing is the focal point most of the time, though he gives his imaginative bandmembers ample elbow room to show off their stuff. A fairly exciting listen, all the way around."
Something about Jeff Richman's sound tips you off to the fact that he's an L.A. guitarist. The compressed, reverb-soaked clean tone, braised with enough modulating delay to sufficiently fatten his single coils; the articulate high-gain roar that suggests Steve Lukather more than Gary Moore–it's the City of Angels sound.
Related Post