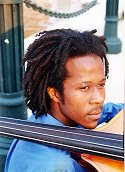 Artist Profile:
Joe Sanders
Ask 18-year-old Joe Sanders how it feels to be studying jazz bass with his idol, Christian McBride, and he will tell you, "It's totally like living a dream."
Bassist Joe Sanders of Milwaukee is one of only five students in the country chosen for a special program at the Brubeck Institute. Sanders, a 2002 Milwaukee High School of the Arts graduate, is one of five young players to be offered a fellowship in the inaugural class of the Brubeck Institute at the University of the Pacific in California. Acclaimed bassist McBride is the institute's artistic director.
"This is a highly specialized jazz program," said executive director J.B. Dyas. "We take just five students, the five best players we can find." Jazz pianist Dave Brubeck founded the institute to give exceptional young players an opportunity for intensive jazz study without the limitations of a traditional degree program.
To recruit its first class, the institute accepted about 75 tapes from performing arts high schools around the country during the 2001-'02 school year. Three players were selected on each of five instruments – trumpet, sax, piano, bass and drums – and were invited to audition at Yoshi's, a famous jazz club in Oakland.
"Joe was head and shoulders above the other bass players, who were also very, very good," said Dyas. "He played with a sense of harmonic honesty and purity that was far older than his years." Sanders and the other four students received air fare, full tuition, and room and board for one year. The students, known as the Brubeck Institute Jazz Quintet, can renew the fellowship for a second year. They also have the option of completing a four-year degree.
"We were praying every day for some kind of full scholarship for Joe," said his mother, Patricia Jones. "It would have been very hard for me otherwise. This was really a blessing." But Sanders' musical blessings began long before the Brubeck Institute existed. "There were a whole bunch of people that chipped in and helped, and my hat is off to all of them," Jones said.
Sanders found a powerful mentor in Florence Johnson, a UWM faculty member in the School of Education. His mother made sure he kept up with academic work even after music had completely captured his imagination.
Sanders started playing classical bass in the sixth grade at Roosevelt Middle School of the Arts. A Milwaukee Symphony scholarship soon won him lessons with MSO bassist Katy McGinn. "He was just a little guy when I met him," McGinn said, "and he loved jazz back then too.
"A lot of jazz musicians are now insisting that students get classical training for basic things like hand position, intonation, and use of the bow that every bass player needs to have. The repertoire we work on is different, but the techniques are the same."
Getting young Sanders to his lessons, complete with a bulky string bass, presented a serious obstacle for Jones, who doesn't drive. Enter Tony Lucas, The Journal Broadcast Group's manager of technical operations for Milwaukee. "I have been working with the MSO for several years, with the program where they have some of their orchestra members giving lessons to students," Lucas said. "Some were having problems getting to lessons so we started kind of a mentoring program, where I would assist them getting them to their lessons and make sure they were practicing."
Sanders is just one of several success stories to come out of the program. The first student Lucas mentored, in the early '90s, later attended the Juilliard School. The young bassist worked his way up through the ensembles of the Milwaukee Youth Symphony Orchestra, eventually making it into the top group, the Senior Symphony.
Despite his classical training, Sanders is more at home in jazz. "I love classical music," he said. "But in my opinion jazz is hipper, and it relates to me somehow. You can express yourself more in jazz. "Bass players just don't play that much in classical. I was in MYSO for like five years playing all those whole notes. I can totally play more notes in jazz than in classical."
Sanders began playing jazz in the seventh grade. He laughs about it now, recalling that all he really did in that first attempt at improvisation was play a couple of scales – D and E-flat. But the time he was 15, Sanders was gigging, playing with professional players in the area. "Even in middle school he just lived and breathed jazz," Jones recalled. "Most kids now listen to the urban music, but not him." Sanders' passion for jazz was fed and watered at the Milwaukee High School of the Arts.
"We do a lot of teaching at the beginning of the year," said Doug Syme, the school's director of jazz studies. "Then the middle of the year we start recording and making demos. We make one demo for each group, and each kid in the group can send it out as their own." Two of the school's combos won Down Beat awards last year.
Syme said that Sanders spent his four high school years "working on raw energy." What set him apart was his love of bebop and the sort of focus that meant he was hardly ever seen without his headphones. Even in the specialized jazz program at the Brubeck Institute, classical music still figures into Sanders' life. He is playing with an orchestra on campus and soon will begin taking classical lessons.
According to Dyas, Sanders and his colleagues are thriving at the institute. Their intensive work has helped them form a tight bond. The members are in a world of their own at the school. They are coached as a group, perform as a group, take classes as a group, eat most of their meals together and travel to University of California, Berkeley together for lessons once a week. They jokingly call themselves "The Brubeck Boys." From all reports on campus, if you spot one of the members, the other four are not far away.
"If Joe were in a regular university," Dyas said, "he would still be in a freshman group and not playing with people of his own caliber. Here, Christian McBride is now his friend and is looking out for him." Sanders is not sure at this point whether he will be back at the institute next year. He is certain, however, that someday he will head for New York, the proving ground for jazz players.
He discovered McBride's music in the seventh grade, after buying a CD because he saw that it featured a bass player. "I really did not like it then," he said a little sheepishly. "I put it away for a long time and came back to it my sophomore or junior year. Then it was like, wow, and I was telling everybody about Christian."
Before arriving at the institute, Sanders had played in the JVC Jazz Festival in New York City and at summer jazz festivals in Europe. He was also a member of the National 2002 Grammy High School Jazz Band.
But the quintet's performance at the Monterey Jazz Festival in September, which drew a standing ovation, was the most special – particularly when McBride joined the group for one tune. "It was just crazy," Sanders said, "just like a dream."
Related Post