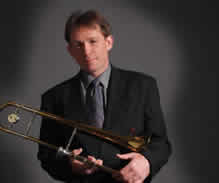 Artist Profile:
Joey Sellers
Joey Sellers is a highly regarded composer, arranger, trombonist and educator. Sellers, Director of Jazz Studies at Saddleback College, teaches improvisation, jazz ensembles, composition, and jazz history. An accomplished composer in both jazz and classical idioms, Sellers has written for Doc Severinsen, the Lincoln Center Jazz Orchestra, symphony orchestras in Tulsa, Long Beach and San Antonio and several works commissioned the St. Louis Brass.
Sellers has played and recorded with internationally recognized jazz musicians, including Dave Liebman, Joe LaBarbara, Bruce Fowler, Lew Tabackin, Kim Richmond, Allen Vizzutti, Conrad Herwig, Bob Shew, Tony Mala, Mike Formanek, Clay Jenkins, Toshiko Akiyoshi's Jazz Orchestra and the Kenny Wheeler Large Ensemble.
Sellers freelanced for years in New York City and Los Angeles and was Assistant Professor of Jazz Studies at Northern Illinois University. Recipient of the Gil Evans Fellowship in Jazz Composition, the Sammy Nestico Award, and most recently, the Julius Hemphill Composition Award, Sellers is the only artist in history to have received all three awards.
Related Post