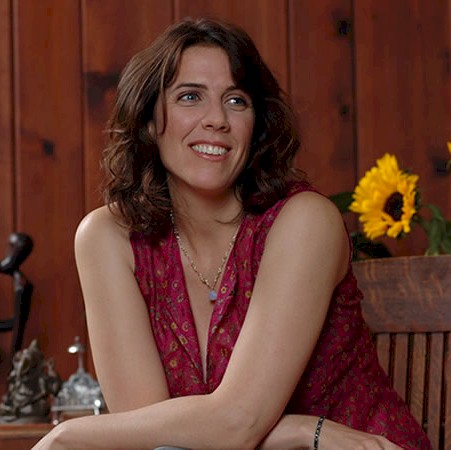 Artist Profile:
Kate McGarry
"A lot of jazz singers are good at a few devices and punch them out song after song. Ms. McGarry has a deeper supply. You'll find shades of folk-pop singers like Suzanne Vega and Rickie Lee Jones in her voice; you'll also find some of the highest refinements of great jazz singing." ~ New York Times
Kate McGarry approaches her craft with the soul of a great folk singer and the facility of a highly skilled jazz instrumentalist. From these talents come the intimacy and power of "Mercy Streets", her second release on Palmetto Records, a label known for its innovative roster of talent. Growing up in Hyannis, Massachusetts, Kate was one of 10 children in a musical family with whom she spent many nights singing. She attended the University of Massachusetts at Amherst, where she studied with Dr. Horace Boyer and renowned avant-garde saxophonist Archie Shepp, receiving her Bachelor's degree in African American Music and Jazz.
Upon graduating, McGarry moved to Los Angeles where she continued honing her craft in L.A.'s jazz rooms, including Catalina's and the Jazz Bakery. Her first recording, entitled "Easy To Love" (Vital Music.) was eagerly received critics and audiences alike. Music Magazine called her, "…a strong improviser who shows taste and restraint worthy of the most mature jazz singer."
Kate continued her study of music and the self in a meditation ashram, where she also taught music classes in harmonium and voice. In 1999 she relocated to New York and began working on "Show Me" which was signed to Palmetto in 2003 and quickly went to #15 on the Jazz Week charts.
Mercy Streets organically came together largely due to McGarry's intense involvement in the New York City music scene since relocating in 1999. McGarry is currently featured on pianist (and labelmate) Fred Hersch's Leaves of Grass ensemble project, which is touring the country. She is a member of Brazilian vocalist Luciana Souza's vocal group, MOSS, which showcases original works and improvisations each member. McGarry also is a member of Eli Yamin's blues education project, which Lincoln Center Institute is presenting in colleges and schools throughout New York City. In addition to these musical projects, McGarry has honed her own band through countless performances around the city at 55 Bar, Cornelia Street Café, Jazz Standard and other rooms. She elaborates:
"Living and working as a musician in NYC, I've been inspired many artists whose works defy category. I'm finding it easier to create and sing music that moves me most regardless of genre and stylistic concerns. I'm drawn to arrangements and instrumentations that help me locate and lay bare the essential feeling of the song. That was my focus in making Mercy Streets. Each song has a core, an essence that I wanted to uncover and offer to the listener. The material is diverse but hopefully always transparent and accessible."
For Kate, music is not simply about practiced skill, it is an extension of her entire spirit. It's natural that she would distill her diverse studies into a sound uniquely her own; emotionally direct, without artifice or guile. Though a typical McGarry performance may include songs from any number of genres, improvisation remains a cornerstone of her music. Constantly reinterpreting and exploring the material interactively with her band, one could see any number of performances without ever hearing Kate sing a song the same way twice.
Related Post