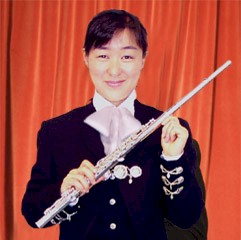 Artist Profile:
Keiko Okamoto
Keiko Okamoto is performing flute extensively in the Los Angeles area, working with several well-known ensembles, including the Asia American Symphony (directed David Benoir), San Fernando Valley Symphony, Pacific Palisades Symphony, Brentwood/Westwood Symphony, Carson Symphony, Fullerton Symphony, Lomar orchestra, and the Pacific Sierra Woodwind Quintet, Woodwind Musicaux, and LA Flute Orchestra for classical music.
Besides classical music, she also appears on Latin scene playing with Son Mayor, Louie Cruz Latin Jazz band, Mike Turre Latin Jazz band and Mariachi Divas .
Her studies have included classical music at the Nihon University College of Art in Tokyo, where she received the very prestigious Music Department Award, to jazz studies at Berklee College of Music, where she was recognized for her astounding fusion of modern and traditional styles.
She has studied with David Shostac (LA chamber Orchestra), Anne Zentner (LA phil), Patricia Cloud (USC), William Bennett (Royal Academy of Music in London) for classical flute and with Danilo Lozano, Art Webb, Nester Torres, Fay Roberts, Ruben Rivas for Latin flute.
t Webb, Nester Torres, Fay Roberts, Ruben Rivas for Latin flute.
Related Post