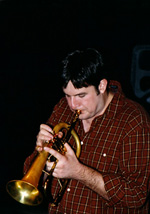 Artist Profile:
Kris Tiner
KRIS TINER is active on the West Coast jazz and creative music scene as a trumpet player, composer, and improviser. He has toured and performed his own music throughout North America and in West Africa, and has collaborated on numerous interdisciplinary projects involving dance, poetry and spoken word, visual art, film projection, and animation, as well as having written and performed music for TV, radio, and film.
Kris has performed and/or recorded with Vinny Golia, Leroy Jenkins, Gerry Hemingway, Wadada Leo Smith, Harris Eisenstadt, G.E. Stinson, Phillip Greenlief, Michael Vlatkovich, Joe LaBarbera, Steuart Liebig, Bill Horvitz, Brad Dutz, The Industrial Jazz Group, the Kreative Orchestra of Los Angeles (KOLA), The Jeff Kaiser Ockodektet, and the Los Angeles Trumpet Quartet.
His own recent musical projects include the Empty Cage (MTKJ) Quartet, the Unmentionables – an electro-acoustic improvisation trio, and a duo collaboration with New York guitarist Mike Baggetta. Originally from Wasco, California, Kris holds an MFA in African-American Improvisational Music from California Institute of the Arts where he worked closely with Wadada Leo Smith, Leroy Jenkins, Vinny Golia, Charlie Haden, Kobla Ladzekpo, and Edward Carroll. He has lectured on both music and visual art, and currently teaches and directs the jazz program at Bakersfield College.
Related Post