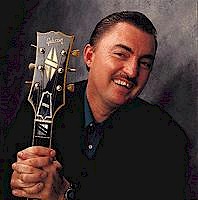 Artist Profile:
Little Charlie Baty
Sacramento-based blues stalwarts It's been 30 years since world-class guitarist Little Charlie Baty and harmonicist/vocalist/songwriter Rick Estrin first teamed up to form Little Charlie & the Nightcats. Jump and swing jazz mix with hard Chicago blues, rockabilly, bebop and Estrin's sharply original songs. One critic said their sound is like "Charlie Christian playing in Little Walter's band." Estrin's horn-like harmonica solos and wise-guy vocals blend perfectly
with Baty's explosive guitar style, earning the group critical, worldwide recognition.
Little Charlie and the Nightcats constantly criss-cross the country to play hundreds of live performances every year, including major blues festivals in Chicago, San Francisco, Cincinnati, New York and Portland. They've played the Montreal Jazz Festival, San Diego Street Scene and Seattle's Bumbershoot Festival.
The Chicago Reader described their live show as party exuberance in the context of superb musicianship. Baty sometimes sounds as if he's growing musically right in front of your eyes. These are serious musicians out to have a hotter than hot good time, said The Chicago Sun-Times.
Related Post