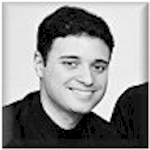 Artist Profile:
Luiz Mantovani
Luiz Mantovani's performances have been described The New York Times as "powerful, beautifully shaped and just practically flawless." A winner of the coveted Pro Musicis International Award, his awards also include the first prize at the Boston Modern Orchestra Concerto Competition (2001) and top prizes at the Schadt String Competition in Pennsylvania (1999) and at the Radio MEC – Ministry of Education and Culture – National Music Competition in Rio de Janeiro (1997).
Mr. Mantovani's has appeared as a soloist and a chamber musician in his native Brazil, the U.S., Europe and Asia. He has performed in such halls as Weill Recital Hall (Carnegie Hall) in New York, Jordan Hall in Boston, Hong Kong City Hall, Salle Cortot in Paris and Sala Cecília Meireles in Rio de Janeiro. A member of the Brazilian Guitar Quartet since 2003, his long-term collaborations also include the Quadrivium Guitar Quartet in Boston and duos with flutist Michel de Paula (Lucerne International Music Ensemble) and violinist João Eduardo Titton in Brazil.
Luiz Mantovani is the first and only guitarist to receive the prestigious Artist Diploma from the New England Conservatory of Music in Boston, the conservatory's highest award for artistic excellence. A recipient of a Saint Botolph Foundation grant and a Rabb Presidential Scholarship from the New England Conservatory, he was also awarded an Apartes Scholarship from the Brazilian government. He holds a Master's degree with honors from NEC and a Bachelor's degree from the University of Rio de Janeiro. His guitar teachers were David Leisner, Nicolas Barros and Antônio Guedes.
In addition to his performance career, Luiz Mantovani teaches at the State University of Santa Catarina, in Florianópolis, Brazil.
Related Post