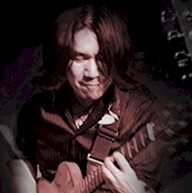 Artist Profile:
Masa Kohama
Masa began playing the guitar as an 11 -year-old. After graduating from Aoyama Gakuin University Anglo-American Faculty of Letters, he moved his base of operations in 1991 to Los Angeles.
He graduated from the Musicians Institute, and then spent nine years as a house – guitarist at one of LA 's largest black churches in the "City of Refuge" playing gospel music.
He also played with West Coast hip-hop stars Warren G and Nate Dogg, and frequently co-starred with WC (Westside Connection.)
He has also played with Italian artist Marco Mishinato, Thai superstar Boi Koshabon, British singer Glenn Scott, American song poet Steven Bishop, contemporary R & B child prodigy Rodney Jenkins (Destiny's Child, Biyanse and Utada – Purodeyusa such as Hikaru,) saxophonist Kirk Whalum, and legendary drummer James Gadson.
He worked for a dozen years as a close friend of Xavier (xavier, in 1995 from East West Japan X Factor release) and is currently composer in a number of projects, recording sessions, and as a producer.
Related Post