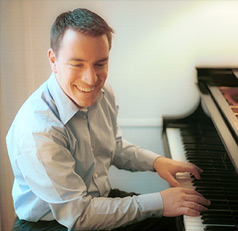 Artist Profile:
Matthew Fries
Matthew Fries (pronounced FREECE) has been playing piano all his life. Born in central Pennsylvania, Matthew grew up in a musical home. His mother was a classical singer. His father was a professor of piano at Susquehanna University and was Matthew's first teacher, teaching him piano and music theory. During high school he played trumpet and sang in school choruses, but returned to piano after a college jazz history course awakened his interest in jazz piano. He switched his major to music and earned a Bachelor's Degree from Ithaca College. He then went on to earn a Master's Degree from The University of Tennessee, where he taught undergraduate classes and studied with jazz piano great, Donald Brown.
In 1994 Matthew moved to New York City, and has made the most of his musical experiences. In 1997 Matthew won first place in the Great American Jazz Piano Competition (part of the Jacksonville Jazz Festival). He placed 2nd in the event the year before. In 1998 he was a finalist in the American Pianists Association jazz piano competition.
Matthew released his debut CD as a leader, "Song for Today" (TCB Music) in June 2001 – a Jazziz Magazine critics pick. This album includes several original compositions, as well as interpretations of compositions Leonard Bernstein, Thad Jones, James Williams, Donald Brown, and a reworking of a pop classic James Taylor.
Matthew currently lives in New York City where he has begun to make a name for himself as a singer's accompanist. Described as "the best jazz accompaniment I've seen in a cabaret in years" (The New York Times) and "a distinct asset" (Variety Magazine), he tours and performs regularly with singers Curtis Stigers and Stacey Kent. He has also performed with artists as diverse as DeeDee Bridgewater, Vincent Herring, Tony Reedus, Charlie Persip, Walter Perkins, Jay Leonhart and many others.
Matthew performs regularly with his trio playing a fun mix of originals and standards. Matthew is available for concerts, clinics and performance workshops.
Related Post