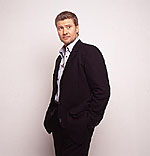 Artist Profile:
Michael Lington
Michael Lington began playing clarinet at age seven and remembers spending time as a young boy with his grandfather in Copenhagen, walking the streets and talking about the music industry.
Lington was trained classically, but switched to the sax at age 15 upon hearing American soul and jazz musicians like Cannonball Adderly, John Coltrane and David Sanborn.I wanted to improvise and the clarinet wasn't quite expressive enough for me, he says.I really connected more with R&B. So I picked up the sax and my style changed immediately.
Lington operated a recording studio in Copenhagen for a time, and also competed in several installments of the Eurovision Song Contest while touring with local Danish artists throughout Scandanavia and Germany. He took a major career plunge moving to America, and lived through all the proverbial struggling days, all the while feeling that America would be my environment. I love the language, the culture, the people. His first touring gigs were with rock legends Little Richard and Gary U.S.Bonds, but his major breakthrough came with singer Bob Caldwell, with whom Lington played from 1994 through 1998.
Smooth jazz fans know that Caldwell has been a proving ground for saxmen who have gone onto huge solo careers, including Dave Koz, Richard Elliot and Boney James. Lington is well on his way to following in those prodigious footsteps.
Caldwell's performance on Tell It Like It Is, from Lington's self-titled 1997 debut, propelled the single to the Top 10 of the NAC chart and Top 20 on R&R's Adult Contemporary chart. His 2000 release Vivid spawned two of smooth jazz's hottest singles of the year, Twice in a Lifetime (which hit #2 on the airplay chart) and Sunset (Por Do Sol) (which reached #4).
Helping his cause is the tremendous exposure he's received worldwide as a member of Randy Crawford's band since 1998. On most occasions, Lington opens the show with his own material before assuming the role of sideman.
His Three Keys Music debut Everything Must Change features songs produced Peter Bunetta (a top pop producer who helmed Vivid) and several of today's top smooth jazz stars, including Brian Culbertson and Gregg Karukas. Musical guests also include performer Jeff Lorber, guitarists Tony Maiden and Paul Jackson, Jr., keyboardist Brad Cole, bassists Nathan East and Alex Al and drummer Ricky Lawson.
Related Post