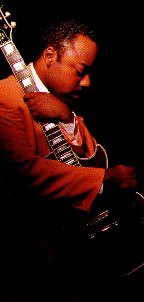 Artist Profile:
Paul Jackson Jr.
Guitarist Paul Jackson Jr. keeps an intense, breakneck schedule.
In addition to the demands of being a Grammy nominated solo artist, Jackson is a highly in-demand sideman and session player. In the two years since he released The Power of the String, his last Blue Note recording, the popular guitarist performed in the television special Diva Las Vegas (behind Cher, Shakira, Mary J. Blige and Whitney Houston, with whom he toured throughout the Nineties), participated in the Billboard Awards tribute to Jam Master Jay, composed music for the film Undercover Brother with Stanley Clarke, and contributed to the TV hit Cedric the Entertainer. In the midst of all that activity, the deeply spiritual Jackson continues to seek quiet time in which to listen to the "still small voice" of God. Those moments played a key role in the creation of his sixth solo album, so it was only "super" natural that he titled the extraordinary project, Still Small Voice.
A great benefit of being on the short list of top-flight versatile session and live performance musicians is forging relationships with the best producers and performers in his chosen genres. His 1996 classic Never Alone/Duets featured high profile collaborations with legendary pals Kirk Whalum, Joe Sample, Jeff Lorber, Earl Klugh, Ray Parker Jr. and Gerald Albright, while The Power of the String included guest spots Boney James, Mervyn Warren and Patrice Rushen.
While majoring in music at USC, Jackson—who got his first guitar at nine, started playing seriously at 12 and decided to be a professional musician at 15—met noted jazz pianist and pop singer Patrice Rushen, who became a mentor and introduced the young guitarist to many musicians who would later hire him. "Success as a studio musician comes from knowing that your number one priority is making the artist happy and developing a reputation for giving those who hire you what they want," he says. "I still practice and love all the late nights and early mornings in the studio, trying to get things just right on my own projects and those of the artists who hire me. I keep all that balanced with my faith journey, and every so often will turn off the mix of be-bop and oldies I keep in the car and just drive in silence…listening once again for that still small voice. God will speak to you if you allow yourself to turn down the volume."
Related Post