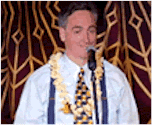 Artist Profile:
Phil Gold
Phil Gold began performing professionally in 1987 when he moved to Los Angeles. Since then, he has performed in 41 States, Canada, Brazil, Japan, Russia, the Georgian Republic, at The White House, on board cruise ships in the Caribbean and the Mediterranean, and on an aircraft carrier in the Pacific.
Having sung all through school, Phil graduated from U.S.I.U. in San Diego as a musical theatre major. He spent five-plus seasons performing in 22 productions with the Los Angeles Opera, and has sung with the Los Angeles Master Chorale, been a featured soloist with the Roger Wagner Chorale, and had the privilege to be one of the Ray Conniff Singers on Ray's very last tour.
A veteran of musical theatre, Phil toured the country for 13 months in the jazz quartet, the Angel City 4, in City of Angels. Other theatrical appearances include shows without quartets: Oklahoma, The Mikado, FiddlerOn the Roof, Ba, and Assassins; and some with: The Music Man, My Fair Lady, Forever Plaid, and it's holiday sequel, the brand new Plaid Tidings. His involvement from the beginning of that last production took him to Vancouver, Canada where he made his directorial debut with the Canadian premiere of the show.
Equally comfortable behind the scenes, Phil toured Germany and Austria stage managing the musical Sisterella. He also co-produced World Acappellafest, the largest a cappella concert ever held in Los Angeles, with fellow TPG member, Dan Jordan. Phil's previous a cappella groups have included the doo-wop groups The Shades and The Alley Cats, and like everyone who has ever sung with TPG, he too has peddled the "bicycle built for four" on Main Street singing with the Dapper Dans, where he sang with all of the current TPG members. Phil has appeared on Brooklyn Bridge (CBS), Ned & Stacey (UPN), TheTonight Show with Jay Leno (NBC), Passions (NBC), and Gilmore Girls (WB).
He can be heard as the voice of Wendel in the direct-to-video Friends Are Forever in Australia, and on the studio cast album of the Gershwin musical Tell Me More (Nonesuch), The Alley Cats' release of Strike 3! (Primarily A Cappella) and Holiday in Plaid (Fynsworth Alley). Phil's proudest productions are his two daughters, Hailey and Colleen, with whom he shares his Altadena home, along with his wife Jill and their perfectly awful cat.
Related Post