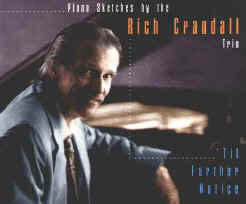 Artist Profile:
Rich Crandall
Born and raised in the Chicago area, Crandalls musical sojourn has landed him in Wisconsin, Michigan, San Francisco, Honolulu and Tokyo. Original compositions span his entire musical career. Formerly a high school and college instructor, his academic pursuits have embraced psychology(MA) Japanese, and education. Performing credits include Freddie Hubbard, Ernestine Anderson, Howard Roberts, and a concert with Henry Mancini. Crandall has resided in Honolulu since 1975.
Rich Crandall has been a staple on the local Hawaiian jazz scene ever since he arrived from San Francisco in the '70s. "It was Dec. 18, 1975, to be exact," he said, "and I remember it because it was the day the Chart House restaurant caught fire. I was flying into Honolulu that day because I got a job at the Opus One at the Ilikai, which was just adjacent to the Chart House. As I was arriving at the hotel, I thought the place I was going to play was burning down!"
Crandall had visited Honolulu before, first staying at a college friend's place in the summer of '71, but there were too many opportunities here at the time for a gigging musician like him to ignore.
"Back in San Francisco, there are a lot of fine musicians, but here, there were so many places to play in comparison; in Waikiki at that time there were around 28 shows and clubs up and down Kalakaua. My first gig was with Teddy and Nanci Tanaka."
Crandall saw the once-busy Waikiki scene starting to slow, so he became "one of the early guys who would get into freelancing. Before that, doing six or seven nights a week was not unusual. Now I was trying to keep busy doing conventions and occasionally playing on the neighbor islands."

Related Post