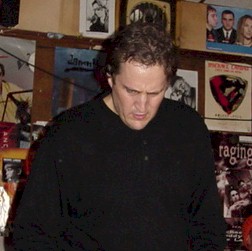 Artist Profile:
Roger Burn
Originally a drummer, Roger Burn attended college at Cal State, Northridge in 1980 as a percussion major and also studied with legendary drum teacher, Freddie Gruber. He later studied piano, vibes, marimba and composition with the late, great Victor Feldman.
Burn's credits include appearances as a keyboardist on The Tonight Show, The Oprah Winfrey Show, The Today Show, The John Stewart Show, The Howie Mandel Show, The Magic Johnson Show, The Arsenio Hall Show, College Fund Show, The Next Big Star with host, Ed McMahon and The Grammy Awards with artists such as Vanessa Williams, Lionel Richie, Lou Bega, Ashford & Simpson, The Brian Setzer Orchestra and Bryan Adams.
He has also worked with Barry Manilow, Ambrosia, Chaka Kahn, Shelia E., Stevie Nicks, Richard Marx and Seal. As a session musician, he's played on motion picture soundtracks such as The Mask, Another Stakeout, McHale's Navy, The Nanny, Freaky Friday and Sideways. He has also played on gold and platinum albums, including a gold with The Brian Setzer Orchestra on The Songs Of Westside Story, a tribute to Leonard Bernstein and again with Setzer's orchestra on the double platinum, double Grammy-winning Jump, Jive & Wail.
Burn also recorded with The Wild Colonials and played vibes on two tracks from former Yellowjackets and Steely Dan drummer Ricky Lawson's debut cd. He has played keyboards, piano and vibes on jingles for such brand names as Target, Cadillac, Dodge, Toyota, Acura, Pediasure and United Airlines and has also been heard on such television shows as The Gary Shandling Show, Beverly Hills 90210, The Pretender, Melrose Place, Spin City, Ed, The Drew Carey Show, Meet The Press, Politically Incorrect and recently contributed his compositional skills to the critically acclaimed drama series American Dreams.
His vibraphone playing can be heard on the Academy Award winning hit film, Sideways' and is one of the principle members of the Sideways Jazz Orchestra. Roger is also a staff composer for Megatrax, one of world's largest library music houses and his compositions are heard all over the world on a daily basis. Since January of 1997 he has been an instructor at The Musicians Institute in Hollywood where he teaches courses in sight reading, how to build a keyboard rig and even a class called 'Musical Director Workshop.'
Related Post