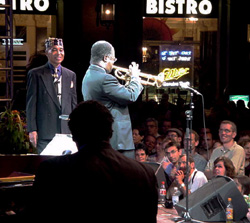 Artist Profile:
Scotty Barnhart
Whether it is performing as a featured soloist with The Count Basie Orchestra in venues all over the world, playing muted solos behind legends Frank Sinatra, Cab Calloway, Joe Williams, Rosemary Clooney, or Tony Bennett, appearing with pianist Marcus Roberts at Carnegie Hall, or leading his own quintet at major Jazz festivals and night clubs, musicians and critics alike have acknowledged the emergence of a new and original voice in the world of Jazz. Trumpeter, composer, clinician and arranger, Scotty Barnhart began receiving critical acclaim from his work with Marcus Roberts who featured him alongside Wynton Marsalis on the 1990 release of Deep In The Shed (RCA/Novus), and the accolades continue.


Now residing in Los Angeles, California, William Terrell "Scotty" Barnhart was born in Atlanta, Georgia, on October 27, 1964. His earliest exposure to music was hearing his mother sing in the choir at Atlanta's historic Ebenezer Baptist Church where he was christened Dr. Martin Luther King, Jr., and baptized Dr. King, Sr. In addition to singing in the youth choir, Scotty began playing trumpet solos during regular Sunday morning worship services and special occasions.
"Scotty Barnhart……..bears watching…..laid out assured melodic lines in a singing, silvery tone." -Jon Pareles, The New York Times
While in high school, Scotty was chosen first chair trumpet for the all-district, all-county, and all-state bands, and was chosen to attend the prestigious summer music camp at Northwestern University. He was also selected as first trumpet and soloist for
the NFL's Atlanta Falcon Band and the Atlanta Community Orchestra. The Atlanta Branch of the NAACP selected him as one of the "Outstanding Young Person's Of The Year for 1981" and upon his high school graduation, Scotty was named a member of the Jazz Abroad program that toured Europe for three weeks.
The King family presented him with a music scholarship in honor of the mother of Dr. King, Jr., The Alberta Williams King Scholarship for Music and he was also the recipient of The Count Basie Scholarship from the estate of William "Count" Basie. These scholarships were used to attend Florida A&M University in Tallahassee, Florida, where he obtained a B.S. Degree in Music Education and was an active member of the music fraternity Kappa Kappa Psi and all music ensembles including the world renowned Marching 100.
Related Post