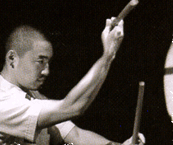 Artist Profile:
Shoji Kameda
Shoji, the newest member of the band, started playing taiko at the age of 8. Growing up in Mt. Shasta, CA he learned how to play taiko from his best friend's parents who started one of the first children's taiko groups in the United States. After high school Shoji attended Stanford University (one of a handful of Universities with a student taiko group) and managed to get a degree in History while spending most of his time playing taiko.
During his second year at Stanford he stopped out and moved to Hawaii to study under renowned taiko artist Kenny Endo. His first full-time job was, you guessed it, playing taiko with the San Jose Taiko group right after graduating college. Beginning in 2000, Shoji spent two years in Tokyo studying traditional Japanese music with masters of hogaku hayashi (the music of the kabuki theater), edo bayashi (the festival music of Tokyo) and yes, more taiko.
In addition to his work with the band, Shoji co-founded his own group called the On Ensemble (pronounced "ohn"), instructs workshops and maintains an active performance schedule with a number of Los Angeles based taiko groups.
Related Post