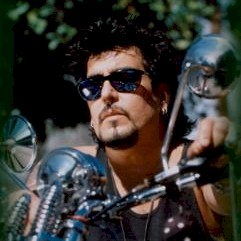 Artist Profile:
Teddy Andreadis
Teddy Andreadis is a highly esteemed and accredited multi-instrumentalist and singer. His talent and versatility have earned him recognition, not only in the United States, but around the world as well.
Having shared the stage with a potpourri of diversified and celebrated names like Carole King, Guns n Roses, Alice Cooper, Billy Bob Thornton, Chuck Berry, Bo Diddley, B.B. King and the Bruce Willis & The Accelerators, Teddy Andreadis has – and continues to – successfully garner the backing and enthusiasm of his peers and audiences alike.
Through the years, Teddy has gained a reputation as a rock-solid keyboardist, a wailing harmonica player, a soulful singer, B3 player and an insightful musical arranger. In addition to his own album, INNOCENT LOSER, Teddy has contributed his talents to the albums of Thornton, Lee Oskar, Nikki Sixx, Duff McKagan and Slash's Snakepit.

His video work includes: Michael Jackson's GIVE IN TO ME, Guns 'n' Roses NOVEMBER RAIN, YESTERDAYS, GARDEN OF EDEN and ESTRANGED, and Carole King's IN CONCERT. He also appears on the Guns 'n' Roses USE YOUR ILLUSION Live 2-DVD set.
Teddy has appeared in TV shows including FULL HOUSE, THREE SISTERS and TRADING SPACES.
Teddy's work can also be heard on many movie soundtracks, as well. Be sure to catch him in Tabitha Stevens' new film, THE SHAMAN.
Related Post