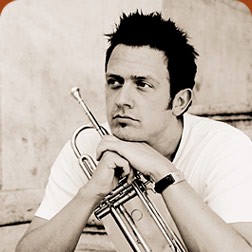 Artist Profile:
Till Broenner
"Calling Till Brönner the new aspiring German trumpet talent is obsolete, since he has sold more records than any other German jazz musician. He plays big time now and is well known in the New York jazz circuit, which itself is top of the crop."
ME SOUNDS/Rolling
Born in 1971 and raised in Rome, Till experienced his outset with the help of Louis Armstrong and Charlie Parker: "Hearing Bebop for the first time, Charlie Parker; that set the whole thing off for me. I was 13 years old and it was an almost erotic sensation. I thought that it was indecent. The music was like a woman having a go at me."
Till stems from a family of musicians. After a well-protected childhood, he enjoyed a classical education followed a study of the jazz trumpet at Cologne's Music Academy. After only three semesters he convinced the leader of Berlin's RIAS-Tanzorchester at an audition, taking his first hurdle at the age of 20.
Only two years later, he raised more than one eyebrow with "Generations of Jazz", being both a classic mainstream recording and his debut as a bandleader.
By the time he released "German Songs", his third album of old German film songs, arranged for jazz quartet and classical orchestra, he was the talk of the trade.

"Midnight", a fusion-jazz album recorded with legendary Dennis Chambers (dr) and Michael Brecker (sax), draws international attention to his music. His amazing variety of style is prolonged with "Love", a record of velveteen elegance, featuring Till's fragile voice for the first time. At the same time he prepares the production of "Chattin' with Chet", and he works for Germany's Grande Dame Hildegard Knef, producing her last record "17 Millimeter" (Warner Music)
"Music today seems to be a very narrow-minded business. If I were to lead the typical life of a musician: hotel-stage-coach, I would not care for it. I am in it for the music, not the cliché." In spite of all success, he has kept his feet firmly on the ground and his music open to everything, which some is criticized. "There is no need for me to revolutionize music, since it has all been done before. Jazz for me boils down to be about the freedom to jump to new conclusions any minute, any second. We play a different concert every evening. Each song sounds incompatible every night, the solos are different, the DJ uses his turntables in a different way every single performance. That is improvisation, and it is important to me, no matter if it's jazz, pop, hip-hop or classical music."
"That Summer" was released in June 2004 and entered the German charts at number 15.
"A Night in Berlin" (SPV), his first DVD was released in September 2005.
"Oceana" (Verve/ Universal), his ninth solo album, will be released 28. April 2006.
(Germany,Austria,Switzerland,Japan,France)
Related Post