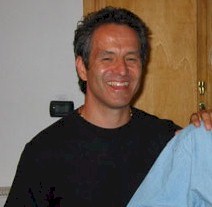 Artist Profile:
Tollak Ollestad
As Shapes' secret weapon, he shows remarkable command of both chromatic and blues harmonicas while also contributing vocals and compositions to the group. He has performed and or toured with Michael McDonald, Don Henley, Kenny Loggins, Jewel, Seal, Desiree, Ambrosia, Sheena Easton, Chet Atkins and Tanya Tucker.
He has also recorded solos on albums for artists such as Brian McKnight, Al Jarreau, Natalie Cole, Bebe Winans, Dave Grusin, Earth, Wind & Fire, Christopher Cross, Billy Idol, Gino Vanelli, Melissa Manchester, Will Downing, Brenda Russell, John Tesh and the all girl rock group, Antigone Rising. He has appeared on a few episodes of The Drew Carey Show as well as having played theme music for ABC's Good Morning America.
He also played the harmonica on the soundtrack for the popular 90's show Northern Exposure. Tollak released his first solo cd, Walk The Earth, just before moving to Holland in May of 2004. Burn says of Ollestad, "He and I met on a silly little wedding gig, back in the days when I still did drum gigs. But, it wasn't until about five years later that we really started to get to know each other. I marvel at Tollak's talent and what's really scary is, in addition to being one of the main composers for Shapes, that he's also a hell of a good piano player as well as a great singer, too. He's the perfect guy for this band and I love working with him!".
Related Post