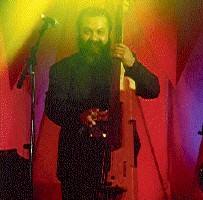 Artist Profile:
Tony Banda
Bassist Tony Banda made his entry into the world in May of 1956. Growing up in the Los Angeles area he gained initial exposure to music through his family. By the age of 5 years old he was performing steady weekend gigs with the family group, thus receiving invaluable "on-the-bandstand" experience at an unusually young age. It was during these formative years that Tony's love and appreciation for all types of music grew immensely, especially Jazz / Latin / Rhythm & Blues.
With over 40 years of experience and a wide spectrum of musical concepts from which to draw from it's easy to see why he is one of the top players on the music scene today. He counts among his many influences legendary Jazz Bassist Ray Brown, Paul Chambers, John Heard and Al McKibbon. Latin greats Bob Rodriguez, Cachao, Andy Gonzalez and Soul music innovators James Jamerson, Rocco Prestia, Bernard Odum and Larry Graham.
For the past 22 years Tony's signature rock steady feel has been the anchor for one of the worlds most celebrated music ensembles the Poncho Sanchez Latin Jazz Band. As an original member of the group Tony Banda travels the world recording and performing with some of the greatest names in Jazz today at festivals and prestigious venues such as, Carnegie Hall. Since 1996 he has also been performing with the Banda Bros. Group, which he co-leads with his brother Ramon. The group which features him on acoustic upright is a vehicle for his more adventurous side and has been receiving rave reviews from critics and fans alike.
Tony has always taken immense pleasure in performing. His joyful spirit and outgoing personality connects with the audience and allows them to become a part of the musical experience and is one of the many highlights of Poncho Sanchez Latin Jazz Band performances. Without a doubt, Tony Banda's powerful grooving bass lines on the groups 1999 Grammy Award winning CD Latin Soul propel the performance to a higher level.
Related Post