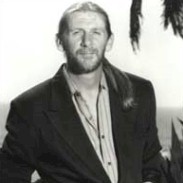 Artist Profile:
Alex Ligertwood
His voice is recognized literally the world over as the lead vocalist of Santana. For over 16 years with Carlos Santana, Alex Ligertwood provided his unique sound and interpretation on 12 albums. He earned Gold Records for four of those Santana efforts, and scored Top 40 hits with six albums and/or singles.
Alex shares Santana's soulful R & B style, which is clearly evident on the Santana hits "Winning" (Zebop), "All I Ever Wanted" (Marathon), and "Hold On" (Shango). His live rendition of the classics like "Black Magic Woman" and "Oye Como Va" scored Gold with Santana's "Sacred Fire: Live In Latin America Album."
There's something deep in the soul of Scotland that produces great blues and R & B singers. Some of music's top vocalists over the years — from Rod Stewart to Maggie Bell to Alex Ligertwood — have come out of that musically fertile land.
Alex Ligertwood grew up in the rough and tumble city of Glasgow. For him, it was a place just east of Detroit or Memphis. He loved American music, especially Motown, Rhythm and Blues, and Soul. R & B was raw, electric, and didn't hold anything back. coque iphone 2019 His musical idols included the legendary Ray Charles, Sam Cooke, Otis Redding, Curtis Mayfield and Marvin Gaye — good company for a budding vocalist.
Alex began his musical path performing with local R & B groups in his native Scotland. In the mid-sixties he was a member of the critically acclaimed R & B group, The Senate. coque iphone 8 This group included the late drummer Robbie Mcintosh, who would later be known for his work in the Average White Band which toured Europe as the supporting band for Ben E. King.
It didn't take long for others to recognize the Scotsman's natural talents. One of the first to spotlight Alex's big soulful voice was Jeff Beck. coque iphone xr He promptly made Alex lead vocalist for the Jeff Beck Band in the early seventies. acheter coque iphone en ligne Next up was a stint with another legendary British band, Brian Auger's Oblivion Express. coque iphone pas cher Over the years, Alex recorded several albums with Auger's jazz-rock unit, singing and co-writing with Auger. During the same period, Alex performed and recorded with fellow Scottish soulmates, the Average White Band.
In the late seventies, Alex served as vocalist/guitarist and co-writer with the Narada Michael Walden Band and the David Sancious & Tone Band before joining Santana in 1979. Alex brings a vocal intensity that feeds the volcanic playing of Carlos Santana. He has recorded and co-written numerous albums for Santana, including: "Marathon", "Zebop!", "Beyond Appearances", "Viva Santana", "Shango", "Spirits Dancing in the Flesh", "Milagro", and "Sacred Fire".
Alex has been musically associated with Santana for more than eighteen years. This clearly exhibits the regard that Carlos Santana holds for Alex's musical talents. A perfect showcase for Alex's vocal power is "Somewhere in Heaven", a ballad from "Milagro", co-written Alex that brings both sides of Alex and Santana together — the lyrical and the fiery — in a passionate, spiritual tour-de-force.
His vocal talents have also been featured on the Spyro Gyra album "Dreams Beyond Control", an honor considering that Spyro Gyra is strictly an "instrumental band". Alex has also recorded on albums with Ben E. King, Didier Lockwood, Carly Simon, The Dixie Dregs, Michelle Colombier, Jeff Lorber, Billy Squier and many others.
Alex currently resides in Southern California. He is currently working on solo projects, as well as performing with his band Metro.
Related Post