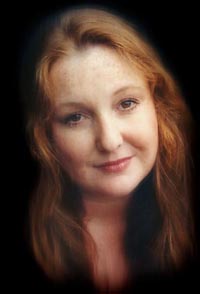 Artist Profile:
Coral MacFarland Thuet
Jazz and Latin singer Coral MacFarland Thuet is equally comfortable singing in Spanish, English and Portuguese. Her repertoire combines jazz and the music of Latin America. Coral has recorded several CDs with guitarist/composer/arranger Steve O'Connor, including "To Another Shore," "Live at L'Escale" and "Abriendo Puertas", is a featured vocalist on Peter Sprague's, "Pass the Drum" and on Jaime Valle's "Third Voyage" (winner of the 1998 San Diego Music Awards for best Latin Jazz Album). coque iphone outlet Coral has also recorded two children's albums in Spanish and English and a bilingual Christmas album with pianist Randy Porter.
Among other recordings with the band Big Mountain, her voice can be heard on the Disney on Ice productions and was chosen to sing the duet, "Beauty and the Beast" in Spanish with Big Mountain's vocalist Quino for the 2001 worldwide tour. She also recorded music for the 1996 Atlanta Olympics. Among the many projects Coral has been involved with, she recorded vocals for Mexican superstar Luis Miguel.
The San Diego Union Tribune's George Varga, selected Coral's concert with Bill Cunliffe and Imaginacion in August 2005 as one of the top ten favorite jazz concerts of the year. Coral was invited the San Diego Padre's Organization to sing the U.S. coque iphone xs and Mexican National Anthems at Petco Park for a 2006 opening week National League game before an audience of 35,000. Some of the musicians Coral has performed with include Peter Sprague, Jaime Valle, Bill Cunliffe, Mike Wofford, Holly Hoffman, Gilbert Castellanos, Mike Garson, Bob Magnusson, Kei Akagi, Randy Porter, Kevin Lettau, Barna Finch, and Joe Diorio. vente de coque iphone
Highlights of performances include guest vocalist of the 70 piece Navy/Marine southwest Band at the San Diego Civic Theater, concert with the Orquesta de Baja California at the Centro Cultural de Tijuana, the San Diego Museum of Art's Jazz in the Park series with Bill Cunliffe and Imaginacion, concerts at Sushi Performance and Visual Arts Gallery, Teatro del Estado de Mexicali, the Miss. Baja California pageant, Baja California's Governor's home, Street Scene, Sherwood Auditorium, La Jolla Museum of Contemporary Art, the Museum of Photographic Arts, Tampa Bay Performing Arts Center, University of Florida and many other venues in both in the US and Mexico. coque iphone One of Coral's most memorable events was singing at two concerts for civil rights leader Ms. coque iphone 8 Rosa Parks.
Coral has written produced and recorded jingles in Spanish and English and has done other recordings in several other languages. coque iphone x She has sung for movies, television and radio. soldes coque iphone She is also a voice-over artist and has narrated several children's books and has done many other narrations for films including the Omnimax film "Ocean Oasis" a production of the Museum of Natural History in San Diego.
Related Post