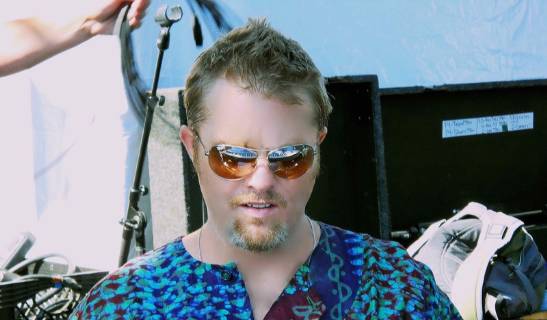 Every summer needs that perfect contemporary jazz tune celebrating the joyful energy of being alive and basking in the sunshine. The summer of 2015 gets its anthem a few months early with the high spirited, instantly infectious "Jumpstep," a track that marks the highly anticipated emergence of multi-talented Southern California based keyboardist and composer Dave Bradshaw, Jr. Aside from being the perfect, radio friendly showcase for his melodic, funky and playfully jazzy keys, the song marks the launch of an exciting musical partnership with saxophonist, composer and producer Darren Rahn, who co-wrote and produced "Jumpstep."
Rahn, who has worked similar studio magic for everyone from Dave Koz, Eric Darius and Najee to Nate Harasim, Tim Bowman and the late Wayman Tisdale, is now working on new tracks with Bradshaw, including several slated to be follow-up singles – with an eye towards releasing the keyboardist's full length debut album later in 2015.
The story behind Bradshaw's development as a contemporary urban jazz artist after years as a renowned, very versatile sideman in Southern California is as poignant as "Jumpstep" is uplifting. For 13 years, he was a member of the Al Williams Jazz Society, a popular, multi-faceted ensemble led the popular jazz drummer and jazz promoter, known for their regular gigs at Spaghettini in Seal Beach and rousing annual performances at the Long Beach Jazz Festival. The keyboardist had the pleasure of opening for genre greats like Kenny G and Brian Culbertson; he was often inspired their success and felt like he had the potential to become an artist and performer in his own right. But at some point, while continuing at the top of his game technically, he started feeling like he was losing his passion for music.
The passing of Bradshaw's father in 2010 changed everything, making him realize like never before that time was quickly passing and if he wanted to pursue deeper dreams, this was the time. coque iphone xs max Composing became a necessary catharsis, and he began putting all of his intense emotions over his dad's loss into music. Excited what he was writing, he invested in DAW (Digital Audio Workstation) software and started making his own beats and tracks. He was encouraged many of his musical cohorts to do a recording. He started off very DIY, printing his own CDs with graphics he created himself.
Working with a radio promoter, Bradshaw was about to send the original track of "Jumpstep" out to stations when he heard some of Rahn's work for other artists and decided the producer could take his vibe to the next level. Rahn immediately heard Bradshaw's potential and the two developed the track, adding new melodic ideas in the verses and hiring Rahn regulars like bassist Mel Brown to replace the synth-generated tracks of Bradshaw's first version.
"I seriously could have come out with the track that became 'Jumpstep' a few months earlier," says Bradshaw, "but hearing the incredible work Darren had done for these other artists made me realize that his Midas touch was essential. The whole journey of working with him was magical, and even better, the two of us connected on a personal level as well and have become good friends as well as collaborators. coque iphone 2019 I'm excited that we're working on new songs and I'm looking forward to making my debut album with him."
A native of Lakewood, California (near Long Beach) where he also currently resides, Bradshaw brings to this new phase of his career a wildly eclectic background that begins with accordion lessons and performing on organ and piano at church since the age of 10. One of Bradshaw's first pro gigs was at Salvatore's in Anaheim, where his accordion teacher Randy Martin hired him to fill in when he needed time off. As early as 6th grade, the young keyboardist performed at church wedding and funerals, and in his sophomore year in high school, he was booked to play in the band that backed Chuck Berry for the opening of the Lakewood Hop.
Years later, as his career as a sideman and club and restaurant performer evolved, he had similar encounters with legendary icons, playing behind everyone from Tony Curtis, Natalie Cole and Etta James. coque iphone en ligne A regular with blues great Barbara Morrison, Bradshaw was also part of a big band ensemble that played at the late comedienne Phyllis Diller's 80th birthday at the Beverly Hilton. coque iphone In addition, he has performed for numerous cultural luminaries, including Paul McCartney and Julie Andrews.
Right out of high school, Bradshaw auditioned for the U.S. coque iphone Navy Band and won a seat as a keyboardist in the U.S. Navy Show Band. During his stint, he toured everywhere from South America to Africa and performed for former Secretaries of State Colin Powell and Condoleeza Rice, Presidents Bush and Clinton. "One of our missions was to use music to help ease civil unrest, so we often were called to play hotspots where fighting was happening," he says. "At one point, there was a civil war and revolution going on in Freetown, Sierra Leone and we were called to help calm things down, at least for a time. It was a great honor to provide moments of healing during difficult times."
Over the years, Bradshaw had the opportunity to record several solo albums in different genres. These included Movin' In, a 2001 set of straight ahead jazz songs featuring members of legendary pianist Gene Harris' band, and Center Yourself, a Christian themed instrumental album featuring saxophonist Doug Webb.
He is currently finishing his course work towards a Bachelor's Degree in Digital Media Design from National University.
"After working as a sideman for so long, performing the music of other great artists, it's exciting to have the opportunity to develop my own style as a keyboardist and share my own music with people," says Bradshaw.
Related Post