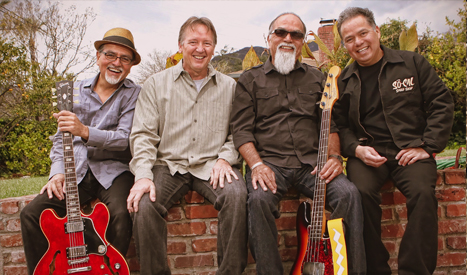 Artist Profile:
Delgado Brothers
The Delgado Brothers have longtime been referred to as Los Angeles' best kept secret. So just who are these quintessential musicians? The Delgado Brothers are eldest brother Bob Delgado on bass, middle brother Joey D on guitar and vocals, younger brother Steve on drums and vocals, and David "B" Kelley on Hammond B3.
To witness a Delgado Brothers live performance is to testify to the synergy, emotion, work ethic and true musicianship of the band.
Their latest, self-released 4th CD, Learn to Fly, is testament to the bands long evolution and scope of musical diversity. Raising a variety of real world concerns from the topical, 'I Wanna Know (what the fighting's about)', to the meaningful and brilliantly nuanced, 'Man Without Plan'.
Hardworking and heartfelt, each and every song represents a soaring musical vignette expressing dynamism of musicianship, humanity, & soul.
Always original and intensely prepared, these journeyman musicians fully infuse all of their song crafting talent with a sense of urgency and an authentic emotional aspect that rings true with intelligence and depth.
Tug on the Delgado Brothers musical roots and you'll find big brother Bob's bass-playing days tied into the East Los Angeles band, Thee Exotics circa 1960's. Yet another brother, Eddie played with Thee Ambertones during the same period. Creating a perfect musical environment, for younger brothers Steve and Joey only to aspire to.
For years the Delgado Brothers band played venues, clubs and special events throughout Los Angeles and the San Gabriel Valley. In 1987 after being sighted at the in-famous "L.A. Street Scene", they released their first album on the Hightone Records, with Dennis Walker and Bruce Bromberg, the same producers responsible for Robert Cray's hit-making success.
After selling 25,000 units worldwide, disappointed, Hightone dropped The Delgado Brothers. "What that experience taught us is that we had to stay true to our artistic convictions and vision. In order to accomplish this we were forced to either wait for the right opportunity, or choose not to seek another record deal",says guitar playing brother Joey D.
By 1994', disillusioned, the band stalled out and called it quits. But in 1996, credit goes to long-time Delgado Brother advocate, harp player, recording artist, producer and longtime friend, John "Juke" Logan for reuniting the band. In 1997, the brothers recorded and released their second album, Let's Get Back, on Logan's own Mocombo Records. Considered their most blues-centered release blues aficionados, this album was well reviewed and features a Delgado Brothers perennial signature song, 'Church of El Monte'.
"The great thing that happened with Let's Get Back is that John Mayall (John Mayall's Bluesbreakers) covered two of our songs, 'If I Don't Get Home', and 'Something About My Ba', on his album 'Along for the Ride' in 2001," My brother Bob and I also contributed bass and guitar parts to 'If I Don't Get Home', making us honorary Bluesbreakers", states Joey D.
Royalties from the sale of those two songs financed the release of their third CD, 'A Brothers Dream'; and the start up of the brothers own Bell Asher Records in 2003.
Related Post