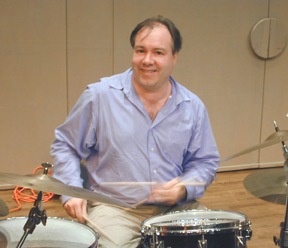 Artist Profile:
Dick Weller
Dick Weller is one of the most electrifying drummers in the California area today. coque iphone His virtuosity has gained him recognition from some of the top jazz musicians in the United States and has earned him the reputation of being one of the most versatile, hard-driving, solid groove players around. After earning a degree in Music from New York University, Dick began playing in various jazz clubs in and around Manhattan. vente de coque iphone His extraordinary ability soon caught the attention of many notable musicians and performances followed with Mike Stern, Bob Lyle, Mike Manieri, Scott Henderson, amid many others. coque iphone en ligne He appeared in concert with the great Diane Schuur and has been performing recently with Bob Shew, Bob Florence and Jack Sheldon.
In the studio, Dick has performed with many musicians, including Alan Pasqua, Bob Sheppard, John Beasely, Alfonso Johnson, Jeff Beal, and Steve Tavaglione. outlet coque iphone He also appeared on an instructional tape with singer Judy Niemack that featured pianist Fred Hersch and bassist Scott Colley, and has appeared on the Jazz Network with the Weller Bros. coque iphone 2019 soldes Dick also received two invitations Yamaha to perform in their "Drums for Lunch" series, which features concerts and lectures some of New York's most prestigious drummers. coque iphone pas cher While in New York, he appeared with musicians such as Charles Blenzig, Andy Laverne, Jeff Andrews, Rachel Z, Chuck Loeb and Walt Weiskopf. coque iphone x Dick was an affiliate faculty member at the State
University of New York at Purchase, teaching undergraduate level jazz composition, and now enjoys a similar position at California State University, Northridge.
Related Post