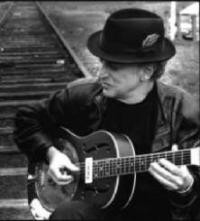 Artist Profile:
Doug MacLeod
TORCHBEARER OF THE ACOUSTIC BLUES
Doug MacLeod is one of the last remaining Bluesmen who learned from the old masters, lived the music, survived the life, and now continues to carry forward that valuable tradition. Within the blues world, MacLeod is known for his quality recordings which feature superb songwriting, guitar wizardry, warm soulful vocals, wit, and unforgettable live performances. coque iphone From St. soldes coque iphone Louis MO, the man overcame abuse and a crippling stutter to emerge as one of the most highly respected Bluesmen on the scene today. coque iphone 8 Like the old masters he learned from, Doug's music expresses life and times on a level that makes the listener feel as if he knows each person inside out. coque iphone x Doug says it himself; "Makes ya' think I been reading your mail, huh?" Born in the pines of Virginia, MacLeod's unique, unorthodox, and powerfully rhythmic style of acoustic guitar playing is tempered his early years as a blues bass player, and honed his subsequent journeys into jazz and electric blues. coque iphone xr
Whether picking or playing bottleneck on his National guitar, MacLeod's relentless right hand, with its churning bass and intricate finger-picking, prompted James Jensen of Acoustic Guitar Magazine to write, "Real excitement is created MacLeod's highly rhythmic acoustic guitar." This excitement has moved people who dance at his solo performances to stop in their tracks during one of his moving slow blues. Besides being a heart-wrenching powerful live performer, Doug is also an extremely gifted storyteller and songwriter. coque iphone 6 His songs are born from experience. During performances, he entertains and draws his audience closer telling the stories that inspired the songs. coque iphone Several of his songs have been covered many artists including Albert King, Albert Collins, Coco Montoya, Joe Louis Walker, and Eva Cassidy.
Related Post