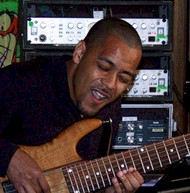 Artist Profile:
Ernest Tibbs
Ernest Tibbs was born and raised in Los Angeles, having grown up in a very musical family. coque iphone 6 His father constantly exposed him to different sounds and his aunt Bobbette Jamison-Harrison, is a well-known and sought after vocalist. His home was filled with all the sounds of R&B, Gospel, Jazz, and even singer-songwriter Pop music. acheter coque iphone
It was when Ernest was 11 that his grandmother bought him his first bass. His Father introduced him to the basslines of Ray Brown and Neils Henning Orsted Pederson.
coque iphone 6
His father's philosophy was if you want to be a real bass player, your walking lines had to be impeccable. Ernest learned his first walking bass parts from the sounds of Ron Carter.
It was his first year in Junior high when Ernest started playing bass more seriously and joined both the Orchestra and Jazz bands. During this time, he started discovering cats like Larry Graham, Bunny Brunel, Jaco Pastorius, Stanley Clarke, Alphonso Johnson, and Abraham Laboriel. Ernest specifically became interested in Jazz when he discovered a radio station in LA called KKGO.
coque iphone
It was there that he was able to hear Duke Ellington, Weather Report, Joe Pass and Grover Washington all in one hour.
By his first year in high school, he was totally addicted. He honed his skills emulating his heros Chuck Rainey and Marcus Miller note for note. Ernest also loved the styles of Anthony Jackson and James Jamerson.
In 1988, he attended Musician's Institute in Hollywood. He studied privately with Gary Willis who was one of his favorite musicians. He was able to hang out and learn from the world's greatest such as Bob Magnusson, Jeff Berlin, and the late Jim Lacefield. There he started learning the melodic solos of Eddie Gomez, John Pattitucci, and picking licks from guitarist like George Benson and Pat Martino. Solid Bass lines from bassists like Will Lee, Reggie McBride, Rocco Prestia, Willie Weeks, Louis Johnson and Bob Watson were of interest, too.
After completing school, He met guitarist Phil Upchurch and started playing in Phil's band (which he still is a part of).
coque iphone soldes
He gives much credit to Phil who helped him sharpen his skills.
Related Post