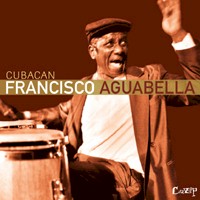 Artist Profile:
Francisco Aguabella
Francisco's talents extend well beyond the realms of Latin Jazz and pop. He gets down all the way from impromptu street rumbas to marathon comparsa drum battles at Carnival. Perhaps most impressively he is a master of the ceremonial Batá, an Afro-Cuban religious drum with origins in West Africa. Aguabella's performances on this giant talking drum are so intense and spiritual that it is said he can actually direct the spirits, or Olishas, to take possession of the bodies of specific dancers. "He makes the walls sweat," Carlos Santana says of Francisco's playing In Sworn To the Drum, a Les Blank documentary tribute to Aguabella. coque iphone xs max "I am not making
this up, the walls start sweating. soldes coque iphone By virtue of how (he) plays he literally changes the elements around him." The Francisco Aguabella Latin Jazz Ensemble combines the smooth sound of Jazz with the electrifying rhythms of Afro-Cuban music to form a unique and versatile sound. coque iphone 2019 They add an exciting twist to Latin Jazz, with their use of a combination of Afro-Cuban music, Yoruba, and Son. soldes coque iphone The Francisco Aguabella Latin Jazz Ensemble has something for everyone, as they fuse Latin Jazz with the rhythmic power of Afro-Cuban drumming, the clever creativity and spontaneity of Son, and the familiar swing of Salsa.
The Francisco Aguabella Latin Jazz Ensemble is led Francisco Aguabella, a "virtuoso" percussionist who has performed, collaborated, and/or recorded with such legendary artists as Tito Puente, Clarlos Santana, Poncho Sanches, Mongo Santamaria, Frank Sinatra, Dizzy Gillespie, Eddie Palmieri and Machito just to name a few. coque iphone The rest of the members of The Francisco Aguabella Latin Jazz Ensemble are a group of exceptional musicians who's backgrounds are just as impressive. The Francisco Aguabella Latin Jazz Ensemble delivers a sound rich in Latin Jazz, illuminated with the authenticity of the Afro-Cuban element. coque iphone pas cher They are now performing at various venues within Los Angeles and beyond. coque iphone en ligne Be on the look out for the Francisco Aguabella Latin Jazz Ensemble for they will be coming to a venue near you.
Related Post