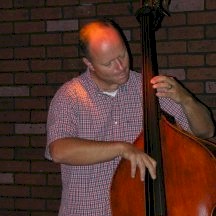 Artist Profile:
Jeremy Ward
Besides being a fantastic bass player, Jeremy Ward is a Navy E-5, but his close cropped hair makes him look mature, and his playing sounds it came right out of the Thirties.
Jeremy Ward hails from Utah, where his father was a band teacher. He learned jazz listening to tunes on the tractor at his family's home farm. Later he joined the Navy, who shipped him to Newport, RI, where he earned a master's degree in performance bass.
That means he plays and doesn't philosophize.
Related Post