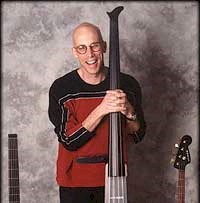 Artist Profile:
Jerry Watts
Definitive and talented studio recording and live performance artist Jerry Watts has been playing bass for 30 years. He began his diverse career at an early age, performing a wide variety of music from the onset.
Jerry was initially influenced Paul McCartney, Paul Jackson, James Jamerson, and most notably, Chris Squire. He spent his late teens studying in the New York area with Jay Leonhart and Ron Naspo, and was further influenced upright players Buster Williams, Rufus Reid, and George Mraz. During his career development, the playing and music of Jaco Pastorius, Sting, Anthony Jackson, Marcus Miller, Neil Stubenhaus, Gary Willis, Jimmy Haslip, and Jimmy Johnson were inspirational. Abe Laboriel and Tony Levin are cited as his two absolute all-time favorite musician/bassists.
Jerry likes all music forms. For him, good music is that which is true to itself – and, of course, it's always about the feel, the vibe, and the intent. His own musical voice favors less notes and more groove. Currently, he particularly enjoys modern rock, electronica, pop and gospel.
Memorable musical collaborations include working with legendary drummer Tony Williams on
a CD project with noted Indian violinist L. Subramaniam; as a member of the group Wishful Thinking ('85-90) with drummer David Garibaldi (and later, Vinnie Coliauta); appearing on Brazilian composer Dori Caymmis' Grammy nominated album featuring Herbie Hancock; and recording/touring with X-Police guitarist Andy Summers. More recent favorites include sessions for the Wilsons, Dave Stewart, Billy Idol, and Andy Timmons, as well as 2 new CDs for vocalist Kevyn Lettau (arranged Russell Ferrante of The Yellowjackets). Recent touring highlights: the 1998 European tour with Simon Phillips (which produced a live CD); and in 1999-2000, an arena tour of Europe and Russia with French pop diva Mylene Farmer (w/ Abe Laborial Jr. on drums) – with a live CD/Video just released. Spring saw him return to Europe for a 3-week theater tour w/ Lettau; and in December, Watts will travel to Guatemala with Hosanna/Integrity artist Tommy Walker.
Additionally, he has appeared on numerous TV/film soundtracks, instructional videos, film trailers and jingles. His latest work can be heard on the "Batman Beyond" animated series. Watts is a member of the bass faculty at Los Angeles Music Academy (LAMA), and also appears on the Andy Summers instructional video "Guitar" (Hot Licks).
Amongst his current bass favorites, Jerry mentions Flea, Richard Bona, Meshell Ndegeocello, Oteil Burbridge, Matt Garrison, Jeff Ament, David Pilch, and the playing of producer Jon Brion, and artist Lewis Taylor. Due to his personal affinity for Christian gospel and worship music, he is a big fan of gospel wizards Fred Hammond and Andrew Gouche.
Along with diggin' the giggin', Jerry is interested in photography, and is an avid swimmer and cyclist.
Jerry plays a MOSES KP-4 electric upright bass (he notes that it is suitable for a wide variety of music), a MOSES fretted 42″ scale Vertical Jump Bass (used extensively on his French pop tours) and an old 4-string jazz bass purchased from John Pattitucci, with a Moses MJ-144 neck (an excellent studio axe). He also uses MTD Basses, SWR amplifiers, Raven mixers and direct boxes, along with Dean Markley strings.
Related Post