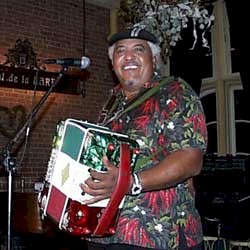 Artist Profile:
Roy Carrier
Combining the sublime with the explosive, Roy Carrier and the Night Rockers simultaneously play two dynamic forms of Louisiana music, Zydeco and the Blues. Roy's family, the Carriers, are one of the great musical Creole clans of the Atchafalaya Basin. Roy, kinsman to both Zydeco king Clifton Chenier and fiddler Bebe Carrier, sings and plays accordion in many styles: modern Zydeco, old time La-La, rock 'n' roll and pure blues. Accompanied his son Troy on drums, old friend Raymond on guitar, nephews Ronald and Kevin on bass and scrub board, Roy and the Night Rockers sprinkle some hot pepper on an irrepressible musical gumbo.
Roy Carrier and The Night Rockers are one of the most exciting live acts on the Zydeco club and festival circuit. The "Grand Master" of zydeco-blues is more than accessible to his fans and admirers, and he spent considerable time mingling with the overflowing crowd that came to pay tribute to his legend or learn what Zydeco was all about from one of the originators.
Roy Carrier's roots in rural Zydeco are about deep as anyone's, extending back through the Carri?re family to the beginnings of Creole music in the Lawtell-Opelousas area, where Clifton Chenier also grew up. Today, according to the Journal, Roy Carrier and the Night Rockers are playing a circuit that usually includes Philadelphia, Washington, D.C., Baltimore, and New York. In fact, six of the cuts on his 2001 CD Whiskey-Drinkin' Man were recorded at a town hall in Maryland (and another album, Twist and Shout, was recorded at clubs in Washington). The band also travels just about everywhere else across the country, but home base for Roy Carrier remains his Offshore Lounge in Lawtell, a legendary Zydeco club where, from time to time during holidays, members of the extended Carrier family gather for a musical reunion.
Carrier first learned to play after his father bought an accordion from Cajun musician Nathan Abshire. According to his account of his musical beginnings as transcribed Michael Tisserand in Kingdom of Zydeco, Roy sneaked off with the accordion and played it in the barnyard, hoping his father would not find out. His father whipped him one time, but then decided to let him play. Carrier, who can also play guitar, formed the first version of the Night Rockers when he was 14. According to the Right on Rhythm biography, he lost half of his index finger in a farm machinery accident had to relearn the accordion developing a unique technique of "crossing" chords. He did not purchase his own accordion until he was 25.
For about 15 years, he supported his family working as an offshore roughneck in the oil industry. His seven-on, seven-off schedule still allowed him to find time to perform. He purchased the club that became the Offshore Lounge in 1981. Carrier first began recording for producer Lee Lavergne in Church Point. His Lanor cassette, Rocking with Roy, was released in 1990, with material from the cassette also included in the 1991 CD Soulful Side of Zydeco, which also has songs Joe Walker. Carrier's CDs offer a good sampling of classic Zydeco sounds, at times rough and gritty, bluesy or joyous, but always with a strong, irresistible Zydeco rhythm.
Related Post