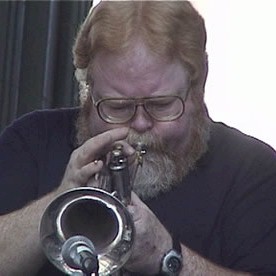 Artist Profile:
Ron Stout
Born into a musical family in 1958, the native Californian is a third generation musician (both maternally and paternally). A Musician's Union member since age 15, Ron studied music at Orange Coast College and Golden West College where he was the frequent recipient of "Best Soloist" awards from Jazz Festivals statewide.
Ron has also been involved with teaching Jazz Theory/Improvisation and Trumpet since 1978, both as a private instructor and in the role of clinician, drawing on his years of experience conducting seminars (at all levels) while traveling and playing with
The Woody Herman Orchestra ('84 through '90) … first under the baton of the Maestro, Woody (3 yrs.), then under the leadership of the brilliant Frank Tiberi (3~ yrs.).
Since leaving the road in 1991, Ron teaches part-time, records, and performs in and around Los Angeles, traveling
occasionally (primarily to Europe) when summoned.
His past experience in the commercial or "show music" world includes: The Righteous Brothers, Bill Medley, Jose Feliciano, Frankie Laine, Lou Rawls, Debbie Reynolds, Gloria Loring, Patti Page, Kay Starr, Maureen McGovern, Sue Raney, Bob Short, Steve Lawrence/Edie Gorme, Little Anthony, The Four Tops, The Temptations, The Spinners, and Colin Raye.
During his 6_ year stint with The Woody Herman Orchestra, Ron was honored to back up no less than Tony Bennett, Rosemary Clooney, Nancy Wilson, Diane Schuur, Roberta Flack, Anita O'Day, Jack Jones, Cab Calloway, The Mills Brothers, The Four Freshmen, The Dukes of Dixieland, Pete Barbutti, Frank Sinatra, Jr., Mel Torme, Billy Eckstine, Joe Williams, Richard Stoltzman, Buddy Defranco, Stan Getz, A1 Cohn, Scott Hamilton, Maynard Ferguson, Arturo Sandoval, Clark Terry, and Dizzy Gillespie, to name a few!
Since then other big bands include Les Brown's Band of Renown, Frank Capp's "Juggernaut", The Clayton/Hamilton Jazz Orchestra, Roger Newman's Rather Large Band, Bill Watrous' Refuge West, Glen Garrett's Brazilian Big Band, The Maria Schneider Jazz Orchestra, and John Fedchock's New York Big Band.
Ron spent three seasons ('93-96) traveling and recording with the legendary Horace Silver in groups ranging from the classic quintet setting to the ten piece brass ensemble. Ron's other small group jazz work has been with: Saxophonists Karl Denson, Pepper Adams, and Supersax; Pianist Les Czimber; and some of the more unusual groups have been Poncho Sanchez, Matt Zebley's pianoless quintet, and David Berger's "Harlem Nutcracker Ballet".
Ron can be heard currently playing and recording locally, and occasionally traveling with the big bands of Bill Holman, Buddy Childers, Jack Sheldon, and The Bob Florence Limited Edition, as well as with the smaller groups: Dan St. Marseille Quintet, The Phil Norman Tentet, Bob Redfield's Latin Jazz Ensemble, The Lennie Niehaus Octet, and Matt Zebley. Ron also currently leads his own modern quintet featuring Jerry Pinter on tenor saxophone. Their recently recorded material will soon be available.
Some of Ron's latest recordings include' Bill Holman Band – "Brilliant Corners" (JVC)
Bob Florence Limited Edition – "Serendipity 18" (MAMA) Phil Norman Tentet – "Yesterday's Gardenias" (Seabreeze) Matt Zebley – "Live at Moondog" (Vibrant) Tom Garling – "Maynard Ferguson Presents …" (Concord)
Vic Lewis' West Coast All Stars (featuring Andy Martin) – "Me & You" (Candid) Barbara Morrison – "I'm Gettin' 'Long All Right" (Chartmaker Records) A complete discography is available on request.
Related Post